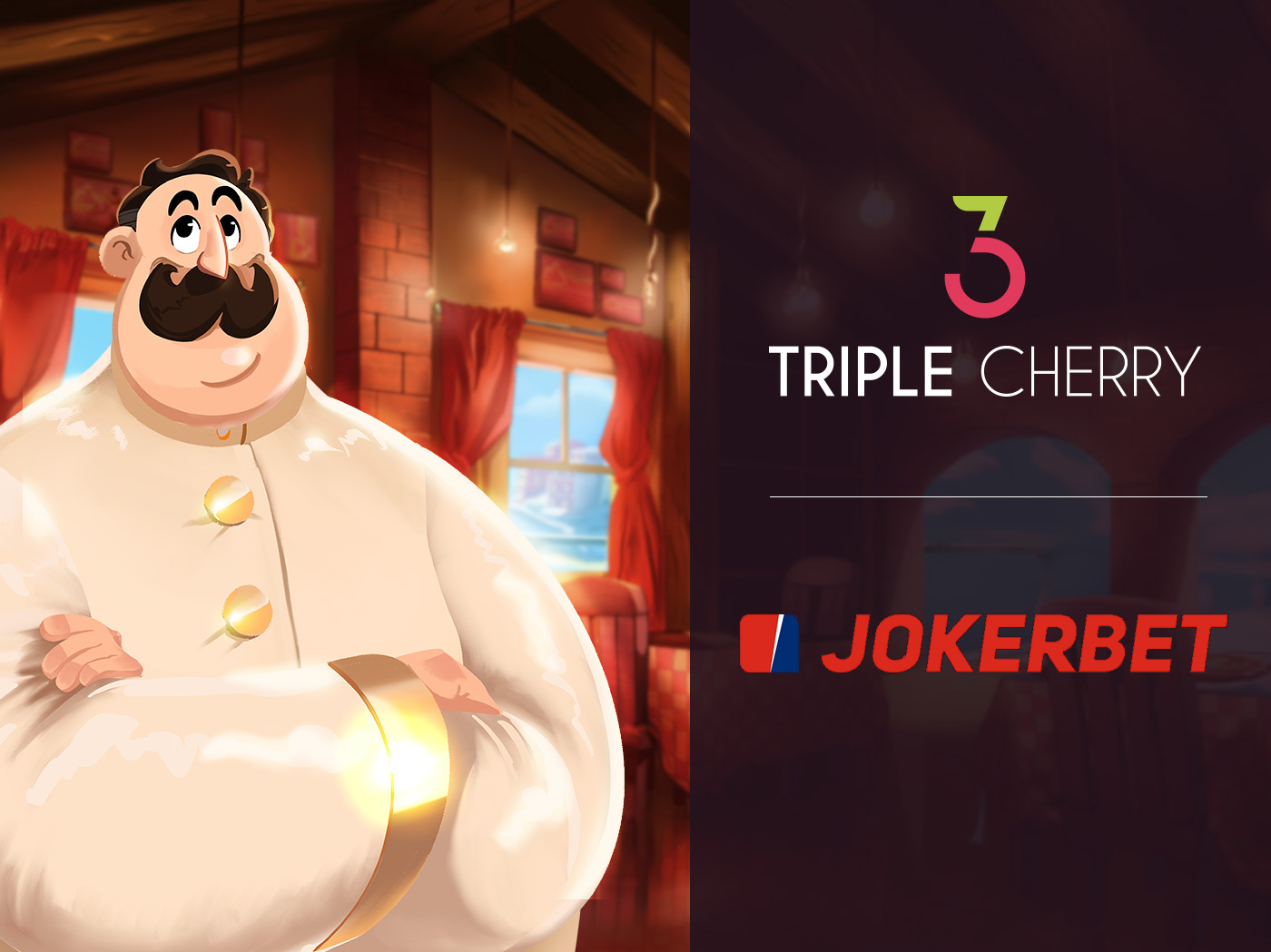 After acquiring the certifications to operate in Spain, Triple Cherry, is progressively increasing its presence in the Spanish online market, now with JOKERBET.
JOKERBET is an online casino with a great entertainment offer, which provides its users with a safe and secure gaming environment, offering them all the necessary information to enjoy personalised slots sessions, within a clear framework of responsibility.
The Spanish operator will soon have at its customers' disposal the video slots catalogue of the Valencian studio Triple Cherry. Among them, successful titles such as Mega Chef or 7's Club. All of them with high quality graphics and features and with varied themes and styles.
The Valencian developer has recently incorporated a gamification tool that will allow them to offer their customers promotions such as free rounds or tournaments, a complete gaming experience! 
Juan Antonio Galindo, CEO and Co-Founder of Triple Cherry, commented: «We are very proud to offer our portfolio of games at JOKERBET, we consider it an important operator in the country and it is an honour to be able to work together, in addition, this opportunity will allow us to strengthen our presence in the national market«.
For his part, Jorge Justicia, CEO of JOKERBET, also wanted to highlight this new alliance: «The incorporation of Triple Cherry means bringing a plus both to our vast catalogue of more than 400 slots, and to users who demand constant novelties and the best product, which we feel obliged to serve in line with our 'customer-centric' business vision. We are therefore more than convinced that the new themes offered by these games will be welcomed. In addition, Triple Cherry slots will soon also participate in our operator progressive jackpots, unique in the Spanish online market, which will provide the ultimate gaming experience at JOKERBET".
ES:
Las slots de Triple Cherry pronto disponibles en JOKERBET!
Una vez adquiridas las certificaciones para operar en España, Triple Cherry, va aumentando progresivamente su presencia en el mercado online español, ahora de la mano de JOKERBET.
JOKERBET es un casino online con una gran oferta de entretenimiento, que brinda a sus usuarios un entorno de juego seguro poniendo a disposición de los mismos toda la información necesaria para disfrutar de sesiones de slots personalizadas, dentro de un marco claro de responsabilidad .

El operador español pronto tendrá a disposición de sus clientes el catálogo de video slots del estudio valenciano Triple Cherry. Entre ellos, exitosos títulos como Mega Chef o 7's Club. Todos ellos con gran calidad de gráficos y features y con temáticas y estilos variados.
Destacar que el desarrollador valenciano, ha incorporado recientemente una herramienta de gamificación que permitirá ofrecer a sus clientes promociones tales como rondas gratis o torneos, ¡toda una completa experiencia de juego! 
Juan Antonio Galindo, Director General y Cofundador de Triple Cherry, comentó: "estamos muy orgullosos de ofrecer nuestro portfolio de juegos en JOKERBET consideramos que es un importante operador en el país y es un honor poder trabajar juntos, además, esta oportunidad nos permitirá afianzar nuestra presencia en el mercado nacional".
Por su parte, Jorge Justicia, Director General de JOKERBET también ha querido subrayar esta nueva alianza: "La incorporación de Triple Cherry supone aportar un plus tanto a nuestro vasto catálogo de más de 400 slots, como a los usuarios que demandan novedades constantes y el mejor producto, a los cuales nos sentimos en la obligación de atender en línea con nuestra visión de negocio 'customer-centric'. Por tanto, estamos más que convencidos de que las novedosas temáticas que brindan estos juegos serán bienvenidas. Además, próximamente, las slots de Triple Cherry también participarán en nuestros jackpots progresivos de operador, únicos en el mercado online español, lo que proporcionará la experiencia de juego definitiva en JOKERBET".